Paramount Auto Body – Your Grande Prairie Auto Body Shop
In a world where everyone's looking out for themselves, we look out for you.
Accidents Are Messy
From fender bender to heavy collision, accidents are complicated. We provide repairs in the fastest, most cost-effective ways possible so you can get out of the shop and back on the road.
Not Everyday Work
It's not every day you get into a car accident. We'll help you through your unordinary circumstances with extraordinary service.
A Long Road
Repairing your vehicle can be a long road, but we'll be with you every step of the way.
A Brief History
Paramount Auto Body was founded in 2016 by Jared Marcotte and Steve Peters with the goal to provide quality work with personable service. After years of working in the industry, the decision to start this company started with the idea that every customer should felt like they mattered.
And, as they say, the rest is history.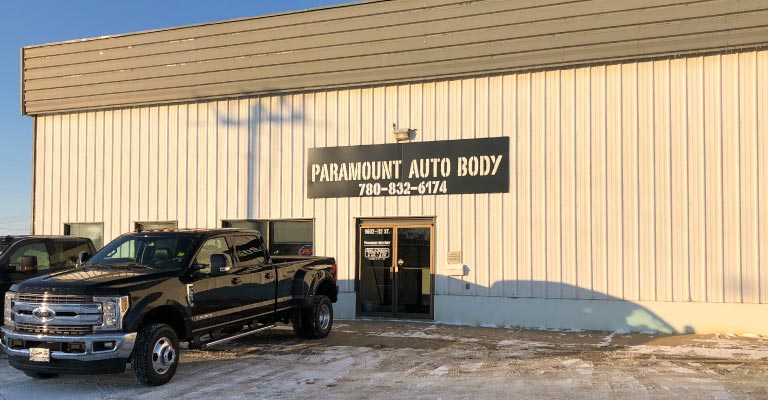 Insurance Claims
Accidents are messy. And, often, the biggest battle after any accident is handling the insurance claims.
Regardless of what auto body shop your insurance company suggests, you have the ability to choose the auto body repair shop that you trust to complete those needed repairs. And we strive to be your go-to source for these needs.
From fender bender to heavy-duty collision, our team is skilled and experienced in dealing with insurance claims of all sizes. We know this often-messy process and can provide you with the service, advice, and results you need from start to finish to help you get your car back on the road.
Fleet Repairs
We understand fleet clients have different needs, worries, and constraints than private motorists. We have a team skilled in repairs of all sizes – not to mention the most up-to-date equipment on the market – to provide efficient repairs for a large volume of vehicles.
With the best crew and equipment, you get the best results: the least amount of downtime for the most effective fix in the industry.
Detailing
Sometimes, life comes down to the nitty-gritty details. We provide detailing services to protect and display all of your vehicles finest features.
Collision Repair
No matter the size of the collision, the make or model of your vehicle, the amount of damage to your vehicle, or the material you need replaced, we've got you covered.
We can mend a multitude of materials, including plastic, aluminum, and steel, and provide service for everything from fender benders to heavy hits, including those leaving frame damage.
To help make your process run even smoother, we also help manage insurance claims, if necessary.
Painting
Whether you want a full-body paint overhaul or some touch-ups added to a previously perfect job, we can take care of all of your paint needs.
Our paint line, Axalta, provides a fine finish in an array of colours. So, whether your mixing or matching, we'll have the right shade for your vehicle.
Finishing
Looking to fix some mild or heavy paint defects? Maybe you just need to refine your ride's colour? For all your milder paint defects, we provided precision polishing services. For any larger scratches, we can buff out those scratches.
Depending on the finish you're looking for, we can refine the paint's shine with either service to keep your vehicle looking its best.
Not Just A Number
Like most locally owned and operated business, we started with a simple goal: to bring back a personable customer service experience. Founded by Jared Marcotte and Steve Peters, Paramount Auto Body has, since its establishment in 2016, sought to fulfill personal customer service needs in the auto body repair industry.
This means, from the moment you call us to the minute you drive your vehicle home, we guarantee an experience unlike any other. After all, to us, you'll never be just another number.
A Personable Experience
Not only do we aim to provide quality product, but we also aim to give experienced advice and assistance to each of our clients. This means learning about your auto body needs. Whether you're looking for a paint upgrade or detailing services or need your car back from a recent fender bender or heavy duty collision, we'll find what you need and make sure you get it.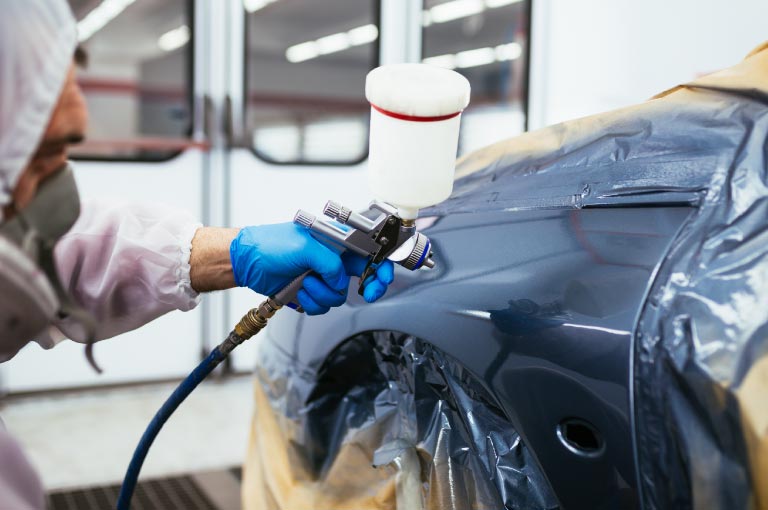 With a combined 65 years of experience in the field – with plenty more on the way – our team will provide you with the best product, advice, and course to get you back on the road as soon as possible.  
Getting You On Your Way
It's not every day you get into a car accident, but it is every day that we help people through it. From filling out insurance claims and dealing with insurance companies to figuring out how to get back on the road, we guarantee to provide you with experienced advice and results to help you through the complicated process.
Getting Your Show Back On The Road
You're not just a number here, which means your car's not just an object. Whether you rely on it for work or recreation, family or financial gain, we take considerate care to get your wheels back on the road as fast as possible.
We also ensure you receive the best service and workmanship every time you drop off your car or truck. Regardless of the situation, we will do everything it takes to make sure you're happy with the final product.
Equipment & Brands
To produce the best results, you need exemplary products. We use quality products and equipment to give you the most distinct and excellent finish to your automobile. Likewise, we ensure all our equipment is kept up to code to protect your property – and our employees.
Paint Line
For our paint, we trust Axalta to give you the finest finish on your vehicle. With a wide array of colours and products that meet all regulatory standards on the market, Axalta is guarantee match for your car or truck.
Collision Repair Products
Our employees use 3M products for all your car's needs. For everything from body repair, refinishing, and detailing, these products provide precision results, assuring your vehicle looks as good as new.
Paint Guns
A good craftsman uses the best equipment to ensure optimized results. We use state-of-the-art SATA paint guns and sprayers, which are exclusively developed and manufactured in Germany, to ensure our products are just as sublime.
Paint Booth
The right equipment also means the right set up. We use DeVilbiss paint booths and products as our choice equipment to apply the paint. Our paint booths are kept up-to-code, providing the best and safest results to your vehicle and the safest option for our employees.